Description
Concert classical double top guitar
Year 2023
N-523
650mm scale length with 52mm nut
Redwood / Cedar (Master grade) with Wave top resonator
Black walnut back & sides (Master grade) High-tech pressed
Asymmetric Turkowiak neck profile made of sycamore maple with acoustic tubes
African master grade ebony fingerboard with EVO frets
Sycamore maple heel with a cap made of African Ebony
Impedance black ebony bridge with stiffening wings encrusted with natural Baltic amber
Head with double African ebony plates encrusted with natural Baltic amber & ebony
Rosette encrusted with natural Baltic amber & Crown logo
Smooth Arm bevel
African ebony bindings
Hand shaped authentic bone saddle polished and semi-scalloped
Der Jung Tuners with ebony knobs and black aluminum rollers with bearings and white mother of pearl screw reinforcements, ratio 18:1
Fingerboard side markers: ø2 mm at 5, 9 and ø4.0 mm at 7, 12 (double) frets made of authentic bone
Highly resonant varnish (own recipe), anti-static, hand-polished
ABS hard shell carrying case
Signed certificate & warranty card included
Guitars weight is 1.65 Kg / 3.637 lbs
Body length is 49 cm / 19.29 inches
Upper bout is 28 cm /11.02 inches
Lower bout is 37 cm / 14.56 inches
Depth of body is 10 cm/ 3.93 inches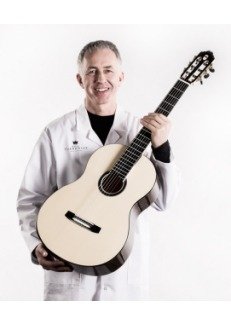 Rafal Turkowiak was born on January 9th, 1966 in Poland.
He graduated from a primary musical school having successfully completed a 3-year-course in less than half a year in classical guitar. His skills enabled him to win a number of prestigious competitions and he has been hailed the Polish Paul McCartney.
His passion and a background in carpentry (his father was a carpenter) soon led his steps and inspired by dismantling of an old guitar Rafal made his first classical instrument in 1983.
Years of experience and experiments have resulted in a series of innovative solutions placing Rafal amongst the best instrument makers in the world. His most notable ideas are the 'WAVE' type resonator, Acoustic Tubes located inside the guitar neck and armrests integrated with the guitar body.
Rafal is also known for his first in the world back & sides made of solid tonewood in high-tech press technology.