Description
New Concert classical guitar
Made in 2021
650mm scale with 52mm nut width
German spruce top
Amazonian rosewood back and sides
Honduran cedar neck
Ebony fingerboard
Amazonian rosewood head plate and bridge
Irving Sloane machine heads with snakewood buttons
Hand rubbed French polish finish
Fiberglass case included
Guitars weight is 1.5Kg / 3.4 lbs
Total length of the guitar is 98 cm / 38.58 inches
Body length is 47 cm / 18.50 inches
Upper bout is 26.5 cm /10.43 inches
Lower bout is 36 cm / 14.17 inches
Depth of body is 9.5 cm/ 3.74 inches
***We are proud to be the exclusive Canadian dealer of Otto Vowinkel guitars ***
Otto Vowinkel  is a household name in the classical guitar world, a renowned luthier with customers all around the globe…A guitar maker with great attention to detail and a strong preference for traditionally built guitars.
His instruments are physically light, incredibly easy to play, ultra-responsive and very powerful. His guitars have outstanding tonal qualities, evenness in sound colour and a perfect intonation.
His concert guitars are completely French polished with shellac finish. The unique rosette design features herringbone in the purfling surrounding the mosaic, which is the motif found in the flag for the city of Amsterdam. The headstock is carved after the facade of his workshop.
Otto Vowinkel was born and raised by a family of tailors in the old centre of Amsterdam. When he was 19 he went to Mallorca, Spain, where he worked in a bar for 2 years. Back in Holland he started his own bar and restaurant. It was during that period that he started playing classical guitar.
Besides teaching his pupils how to play the guitar, Otto's guitar teacher, Carlo Mell, also did some repair work on guitars. Otto found this very interesting and it triggered him to start making guitars himself. He quit the restaurant business, bought a pile of wood, a saw, a chisel, a pot of glue and the book "Classical Guitar Construction" by Irving Sloane, and he began making his first guitar in the attic of his house, using an old pool table as a workbench. This was in 1984.
After six months of perseverance and sleepless nights he managed to create something that was shaped like a guitar. Encouraged by the result he started on the next one. He had no teacher but showed his latest specimen to anyone who had anything to do with guitar playing. With their comments in mind, he began building his next one, and so on…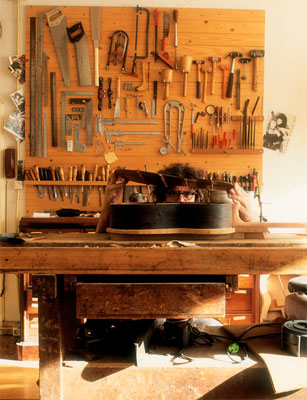 This turned out to be a perfect method.
In 1989 he met his future wife, Dutch guitarist Esther Steenbergen, as well as the Andalusian-based Dutch guitar maker Alex van der Horst, better known as "Alejandro" (1959-2009) with whom he started working on a regular basis during the periods Alex resided in Holland. They shared their ideas about "the ideal guitar": a flexible tone, a quick response and the quality of the sound as the carrier of volume.
In the years that followed Otto Vowinkel developed into a guitar maker with a great eye for detail and with a strong preference for traditionally built instruments. Little by little he became a household name in the classical guitar world with clients all over the world.
All of his concert instruments are French polished, a traditional method of polishing with shellac. He has made an intense study of it, and nowadays he is asked to give lectures and workshops about it. For his instruments he uses 'the usual' materials like German spruce and Canadian cedar for the top and different kinds of rosewood for the back and sides. Lately, he also uses cocobolo for the back and sides as well as maple. In his rosette he processes the flag of the city of Amsterdam. Besides classical concert guitars he also makes flamenco guitars, quart guitars and fifth-bass guitars, an instrument tuned a perfect fifth lower than a standard guitar. This guitar has a wider body and a scale of 72 cm. It is perfect for use in ensembles, to widen the range of transcriptions for duo, trio , etc. or for some cello repertoire, like Esther Steenbergen did with the cello suites of Johann Sebastian Bach.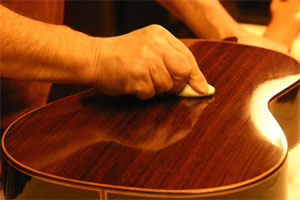 Musicians playing Vowinkel guitars include classical guitarists like the Amsterdam guitar trio, Sanel Redzic, Denis Azabagic, Tariq Harb and George Sakellariou. Also guitarist from the jazz world and tango scene like Leonardo Amuedo, Ernesto Snajer, Nelson Faria, Julio Cobelli, appreciate the instruments of this extraordinary guitar maker.
Otto still lives in the centre of Amsterdam. Besides building guitars, he runs the prestigious "Masters of the guitar" concert series in the world famous "Concertgebouw" together with Esther, his wife.